Welcome
This page has been updated regularly through the project. It now ends as it begins, with a station platform in limbo. Be sure to read through for entries you may have missed.
25 May 2016 | Limerick Junction
Swifts dart from the sky,
paths entwined.
Their harsh electronic calls
sound the platform,
delimiting some afterworld
by faint movements of air.
We have still time
and might yet learn to read this code
given enough seasons, here
at Limerick Junction.
24 May 2016 | The Steamship Sirius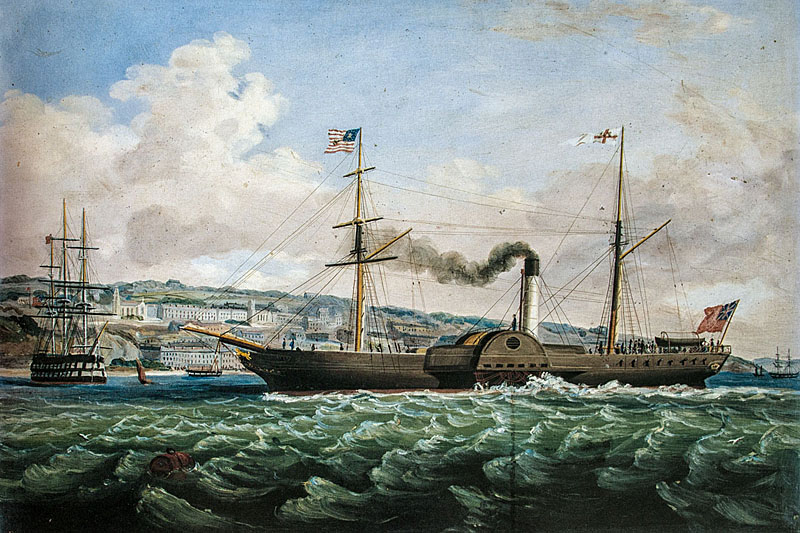 The steamship Sirius was built in Leith, Scotland by Robert Menzies and Sons for the St. George Steam Packet Company, at a cost of £27,000. Made of wood, it had a two-cylinder engine that generated 300 horsepower. At 178 feet in length, she weighed 700 tons. Her figurehead was a dog with a star in its paw.
Earlier steamships had made the Atlantic passage, but the boilers had to be turned off regularly to clear deposits of salt. The Sirius was fitted with condensing boilers, which removed this requirement.
Her regular route was Cork to London, but in 1838 was chartered by the British and American Steam Navigation Company, in order to make history. She set off from Passage West, Cork, under Captain Richard Roberts on 4 April 1838 and arrived in New York on 22 April, the first steamer to complete the trans-Atlantic crossing non-stop. Her average speed was 7 knots and average daily distance 161 miles.
Just nineteen hours behind the Sirius was Brunel's ship Great Western, also competing for the honour.
The painting is "The Steamship 'Sirius' off Cork Harbour" (c.1843) by George Mounsey Wheatley Atkinson (1806-1884). Credit as below.
24 May 2016 | Chart of the Harbor of Cork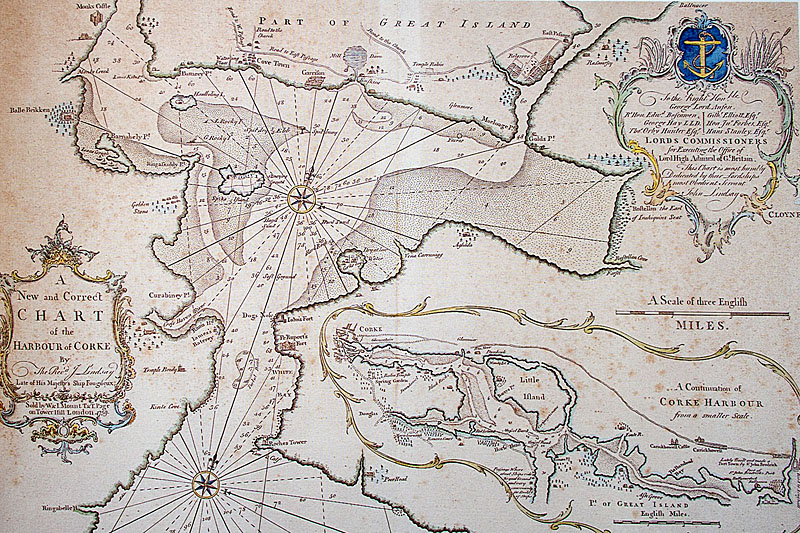 "A new and correct Chart of the Harbor of Cork", 1759, Revd. J. Lindsay. Taken from Maritime Paintings of Cork: 1700-2000, Peter Murray, published by the Crawford Municipal Art Gallery, the Port of Cork, and Gandon Editions, 2005.
23 May 2016 | military pier
tourists take selfies on the military pier
looking backwards at the open quay wall

ORDER OFFICER COMMANDING NAVAL OPERATIONS COMMAND

authority cannot trump their desire
to recognise themselves post hoc
in this space but not part of it
one thin frame away
from dissolution 
one step from the edge
of a harbour deep and black

widows walk at Admiralty House
praying for a drench of salt from the sea
22 May 2016 | Brass band at harbourside
The band sends off the passengers of the Caribbean Princess, as the Animation Team pose for pictures.
21 May 2016 | A Question of Scale
The brick building shown above houses both the Cobh train station and the Maritime Museum. Within the museum are diorama made by school-children, including several scale representations of historic ocean liners, such as the Titanic.
20 May 2016 | Refraction
19 May 2016 | History
The Water Club was founded in 1720 by Lord Inchiquin of Rostellan Castle and other locals in Haulbowline. It had the distinction of being the first yachting club in the world. In 1800 the organisation moved to Cove but had no fixed address nor clubhouse until June 1929. At that time John Frederick leased the middle floor of his house on Harbour Row to what was then called the Cork Harbour Water Club. Reportedly, the rate was favourable.
In 1831 the club received an Admiralty Warrant from King William the Fourth. This allowed the prefix "Royal", so the name was changed to the Royal Cork Yacht Club. In 1838 the organisation moved to No. 7 West Beach, but then took it upon themselves to build a dedicated Clubhouse. Plans had to await more prosperous times, but were encouraged by a site on Columbine Quay being offered by Simon Barry, Admiral of the club, for one pound per annum. The lease was agreed in 1852.
The architect Anthony Salvin (1799-1881) was commissioned, furnishings were obtained from Dublin, and after two years of construction the building opened, on the first of June 1854. This was the club's home for over a century. On merging with the Royal Munster Yacht Club, the RCYC moved its base to Crosshaven, abandoning the building in 1966. Various organisations used the handsome site, but by 1988 it was disused and "in a dilapidated condition".
Information gathered from sources including A History of the Royal Cork Yacht Club by Alicia St. Leger (published by the Royal Cork Yacht Club, Crosshaven, County Cork, 2005), pp. 396-406 and 421. Also History of Cobh (Queenstown) Ireland by Mary Broderick, 1989, pp. 62-3.
18 May 2016 | Moon over the harbour
17 May 2016 | East passage
16 May 2016 | facade
15 May 2016 | Royal Cork Yacht Club, 1877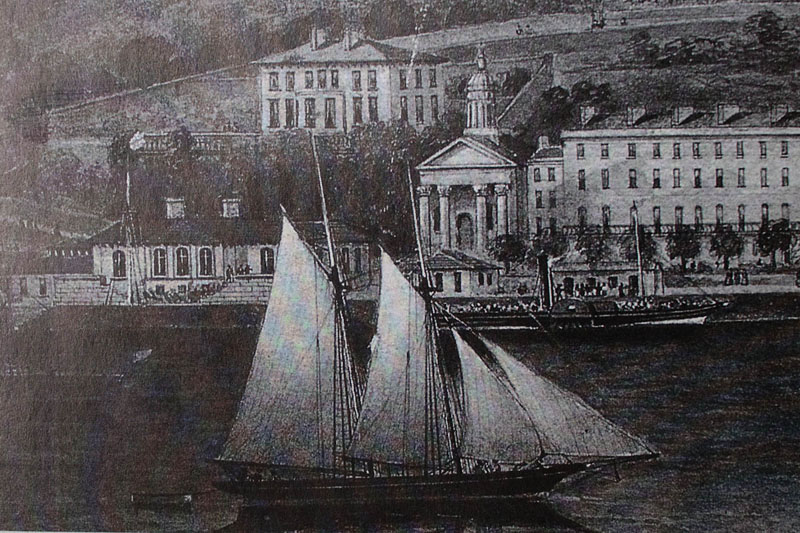 Postcard issued by The Sirius Project, sometime after 1988. This is a detail of a painting of Queenstown by R.L. Stopford, 1877, showing the Royal Cork Yacht Club.
15 May 2016 | Royal Cork Yacht Club, 1977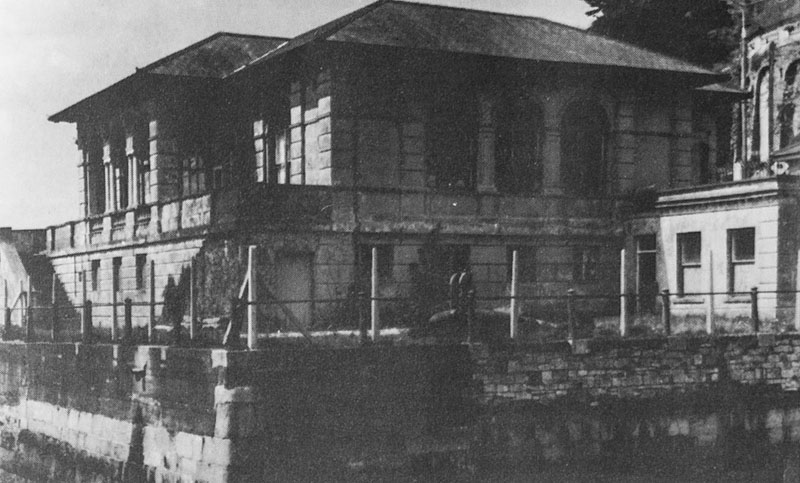 "The former Royal Cork Yacht Club is a fine, mid-nineteenth century italianate building of a single storey over a high basement. It has an entrance facade of five bays which includes a round-headed doorcase with a cartouche in the semi-circular panel above the door. The rere[sic] or seaward side is more interesting with a loggia of round-headed arches, a terrace and wide steps leading down to the quay. There were once two flights of steps but one has been removed. There are wide round-headed windows on all sides, a low-pitched roof, wide eaves and brackets. The walls are rendered and channelled on the basement, which has small square windows. The building is now used by Cobh Vocational School, and, if painted, could look very attractive."
-- Cobh Architectural Heritage, published by An Foras Forbartha, 1979, pp. 19-20
15 May 2016 | Carillon and aeroplane
The Sunday carillon recital at St. Colman's Cathedral, Cobh, recorded from Bishop Ahern Close.
14 May 2016 | Places: Geographic
The geographic was established by Ptolemy in the second century, by an application of mathematics. The geometric approach posits an outside observer who can view the Earth as a globe. In order to form a projection onto a flat surface, we require a perspective, and this is strictly visual; this process effaces the other senses.
The view is from above, distancing the observer from the observed. This instantiates a heirarchy that came to dominate mainstream geographic and philosophical thought. Lines of latitude and longitude are not fixed by the heavens, like the chorographic lines, but may be infinitely divided to ease measurement. In all places they are equal and operate in the same manner. This grid creates a uniform space that is everywhere homogenous. The geographic approach is hence congruent with the empirical view expounded by Newton.
13 May 2016 | Places: Chorography
The chorographic system identifies separate and distinctive regions on the Earth, by correspondence with the heavens. In the scheme documented by Ptolemy, the surface of the earth was divide into klimata, horizontal bands governed by different Gods. Their temperaments dictated the character of the peoples who lived in their dominion.
This system is based on relationships between particular objects and actions we experience (for example, the budding of a tree) with recurring patterns known to memory (the coming of spring) that are governed by hidden forces (Persephone returning from the Underworld). These relationships are based on intertwined levels of symbolism. When the Gods are projected as constellations, these then become aspects that govern the people under their sway. There is a continuous interplay between particulars on Earth and generalised patterns in the heavens.
12 May 2016 | Places: Topography
Today we talk of the geographic approach to place, and not many remember that the Ancient Greek philosophers had three forms of inquiry: topos, choros, and geos. Topography concerned writing about place; chorography was writing about regions; and geography was writing about the Earth as a whole.
The meanings of these terms changed over time, even trading places with each other; their inter-relations are complex. It is easy to be misled by contemporary usage into thinking that the definitions were always as they are now. For example, when we refer to a map as topographic, this is not in accordance with the traditional meaning.
Topographic accounts derive from oral cultures, typified by the periploi, or stories of "sailing around", such as those given us by Homer. Places are experienced from a singular, individual point of view, told through a narrative that connects one feature to the next. This connection is both in time, as one locale follows another in a sequence of days travelled, and also in space, as a route is traced further and further from home.
10 May 2016 | Princess in the fog
Caribbean Princess (Call Sign ZCDG8) is a Grand Class cruise ship, second only to Royal Princess in size, and larger than Star Princess, Golden Princess, and Grand Princess. This is due to an additional deck of cabins, the Riviera deck. She has 900 balcony staterooms and was the first modern cruise ship with an outdoor theater. The ship was built by Fincantieri (Monfalcone, Italy) at a cost of half a billion dollars. Christened in 2 April 2004, she joined the fleet owned by Carnival plc, operating as Princess Cruises.
MS Caribbean Princess is 290 m long, has a beam of 50 m and draught of 8.7 m. Gross tonnage is 112,894. She is powered by two 42 MW diesel-electric propellers that allow her to achieve 22 knots (41 km/h). Fifteen decks hold 3080 passengers. There are two further decks and 1200 crew.
Due to arrive at Cobh Cruise Terminal at 6:15 on 10 May 2016, Caribbean Princess was one hour late, due perhaps to the heavy and unseasonable fog.
(Information from Wikipedia and Vessel Tracker.)
8 May 2016 | Old Church Cemetery
"No one is sure when a church was erected on this site, however we can presume that it was part of the Celtic Church prior to the arrival of the Normans. It remained a place of catholic worship until the collapse of the rebellion of 1581 when Lord Ormond and his English army signalled their victory over the Earl of Desmond by burning down the church.
In 1694 a protestant church was built on the walls of the old church. It remained a place of Protestant worship until 1815 when St. Mary's Church was completed in the town (near Roches Row). The old church was then allowed to fall into ruins.
Around the old church is one of the most cosmopolitan graveyards in Ireland with people of many races and creeds buried here. Very many are seafaring men who found their last resting place in this quiet corner of the Great Island. For centuries wealth was a pre-requisite for burial within a church's walls or to erect a memorial. 'Ordinary' people were buried in the churchyard with only mounds of grass or pieces of wood to mark their graves. However by the late 1600's the merchant classes had assumed the tradition of erecting stone memorials to their dead. The oldest remaining headstone in this cemetery dates to 1698. Many headstones are now worn and difficult to read, but an examination of them can be rewarding as they form an astonishing demonstration of the stonemason's craft."
Taken from the Visit Cobh website.
6 May 2016 | Throbbing
A coast guard ship is in dock with the engine running. All through the apartment is a throbbing. Every item vibrates in synchrony with a broad energy band concentrated below 100 Hz, with a fundamental frequency of about 23 Hz. But what is distinctive is the "throbbing" of the drone, as it gets quieter and louder in cycles. This regular amplitude modulation has a period of about 3.8 seconds. It's as though a gigantic Leslie speaker has pulled into the harbour.
Higher frequencies are provided by waves that lap past the wooden pier to the shoreline. Gulls call back and forth over the bay. Their conversations are etched on the spectrogram in the shape of the gulls themselves, flying above the background drone.
Biotic and abiotic forms generate interacting acoustic pressure waves that reach my ears. From this location I plot frequency energy over time. This colourful graph recapitulates the original spatial relationships between the sound sources. In this way phenomenology is mimetic. We'd be right to call it poetry.
5 May 2016 | The wake
The Fantasia-class cruise ship drew into Cobh this morning. It towers over everything else, a cliff-face pocked with balconies. It's as though a mountain was deposited suddenly in the harbour. There are thirteen wedding cake layers of staterooms and private suites. Ringing the middle are the escape modules, orange in colour, ready to be winched to the sea.
The verticality of this vessel mirrors the precipice in the town itself. Warning signs reading "sheer drop" make good vantage points for tourist photos. The disembarked ask the way to the Cathedral, directly adjacent to a prominent sign pointing to the Cathedral. They buy historic postcards in the tourist office, and chance an ice cream on the promenade. Likely they visit the Lusitania monument and the Titanic museum. Then, near the hour of five, they retreat to their fuck-off ocean liner, and are signalled out of port.
A horn calls sea birds to dinner. The water will soon be disturbed; it's a good time to fish. As the engines engage enormous props, every part of the shoreline thrums. People from the town are drawn out to watch multicolour specks on the cabin balconies, swaying side-to-side. Departing Germans wave from on high to those of us scrounging dinner from the offerings available at Centra. They've got themed lifestyle restaurants and a choice of bars; so the brochure tells me.
Is it our role to merely wave back? But surely this encourages their detached superiority. Or should we rather point and laugh. After all, Cobh has based its tourist industry on nautical horror. But these nearly departed have already forgotten about U-Boats and icebergs. Instead, they've put their faith in boutique bars, all-day casinos, and the European Central Bank. An unsinkable ship.
A gull screams and hits the water. Feeding time in the wake.
4 May 2016 | Limerick Junction
Soon I will be in Limerick Junction, our very own no-place, a station between stations, a zone that hints of other worlds -- Narnia, Avalon -- without in any way delivering on that promise. There is no point looking for platform something-and-a-half. It's enough to hope for eventual rescue by a different train on a different track. Even that passes for optimism here.
The sky is overcast. Discarded hedge trimmers line the verge, their industrial yellow paint peeling. Crows play on a rusted hulk that was once a family automobile. A dead man sings of fashion in my headphones. It's the back side of some beyond. If patient, it will get me where I am going.
I am sure it will rain soon.
Perhaps I'll notice.